Alaska Outdoor Adventures
is your vacation travel guide to Alaska Fishing Information, Alaska Hunting Information,
Sightseeing & Tours, plus links to Alaska's worldclass
Adventure Travel Lodges and Guides.
Experience an incredible guided ATV tour to the pristine
wilderness of Alaska --- the perfect compliment to your Alaskan Vacation.


Alaska's spectacular backcountry beauty is beyond compare. Nowhere else in the world can you ride out on an ATV day trip to an untamed frontier of magnificent glaciers, pristine wilderness and amazement, stopping only to watch the abundant wildlife play, and be tucked safely in at night in a warm countryside lodge.

This is the kind of unforgettable experience you can have when you book one of our Alaska backcountry ATV tours.

ATV - Four Wheeler Tours & Adventure
Alaska Backcountry Adventure Tours

Alaska Backcountry is based in Palmer, Alaska, and goes exploring all summer long on first rate ATV tours that make those gigantic glaciers in the MatSu valley and elsewhere seem even bigger! Alaska Backcountry Adventure Tours can customize all of our tours to fit your schedule and experience level.

We have three main Summer ATV / four wheeler tour packages to consider or if you're visiting in the Winter, check out our snowmobile tours.

For more information, click here.




If you are truly adventurous, you may also want to try a guided side trip to the High Actic for a Polar Bear viewing tour and visiting Eskimo whaling camps which can be the perfect compliment to your Alaska Vacation.

[ Homepage ]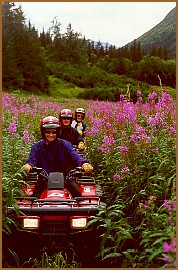 The North America Hunting
and Fishing Directory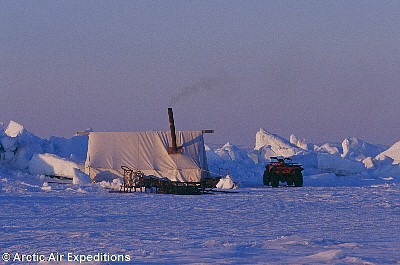 Eskimo Whaling Camp