Alaska Outdoor Adventures
is your vacation travel guide to Alaska's Denali National Park and Mt. McKinley tour Information, plus links to Alaska's worldclass
Adventure Travel Lodges and Guides.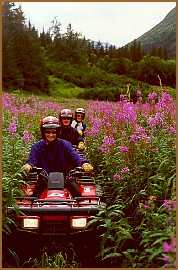 Explore our adventure travel tours and lodging in or near Denali National Park and Mount McKinley, Alaska - the ultimate in wildlife viewing and spectacular sightseeing.
Denali National Park's 6 million acres (over 9,400 sq. miles) of dynamic glaciated landscape supports a diversity of wildlife with grizzly bears, caribou, wolves, Dall sheep and moose. Summer slopes are graced with birds and wildflowers. Visitors enjoy sightseeing, backpacking, mountaineering, and research opportunities.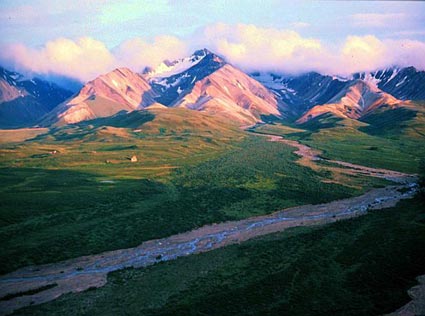 Denali National Park Tours & Adventure

Alpine Creek Lodge

     Alpine Creek Lodge is the "Best Place in Alaska". We provide customized vacations to all points in Alaska. You tell us what you want and we'll get you there! Denali National Park and the Kenai Peninsula are our specialties.
Telephone: 1-907-743-0565  or 1-907-394-2552

The Denali Park Road is the only road in the park, extending 90 miles from the park entrance
to its terminus in the old mining community of Kantishna, the mostly-gravel road traverses
boreal forests and sub-arctic tundra and is closed to most private vehicles after the first
14 miles. Crossing rolling mountainsides and sheer cliffs, the road meanders through
scenic vistas and prime wildlife viewing areas.

Mount Mckinley Tours & Adventure


Mount McKinley or Denali "The Great One" in Alaska is the
highest mountain peak in North America, at a height of approximately 20,320 feet (6,194 m). It is the centerpiece of Denali National Park although tours to the mountain itself can only be done by bush airplane which land on the lower mountain glaciers. Most sightseers content themselves with the spectacular views of the mountain from inside the Park or by overviews from flightseeing aircraft.





A guided side trip to the High Actic for Polar Bear viewing
and visiting Eskimo whaling camps, or a guided ATV tour, is indeed the perfect compliment to your Alaska Vacation.

Also, please visit our Alaska Wildlife Viewing section for more
Alaskan outdoor tours and adventure.

[ Homepage ]