Alaska Outdoor Adventures
is your vacation travel guide to Alaska raft trips , Denali National Park,
and links to Alaska's worldclass
Adventure Travel Lodges and Guides.
For fresh wild salmon delivered to your doorstep...
Read More >>>

~ Try a guided river rafting trip ~
for sightseeing, fishing or hunting and some real Alaskan adventure!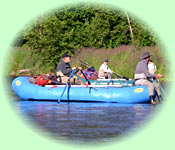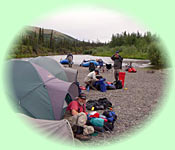 Rafting and Float Trip Adventures

Alaska's extensive river systems is a rafters dream come true and supports a diversity of fish and wildlife with grizzly bears, caribou, wolves, Dall sheep and moose frequently seen. Rafters enjoy hunting or fishing for 5 species of salmon and rainbow trout, with opportunities for sightseeing
and wilderness exploring.

Alaskan Guide Service

  Fly in to the Alaska wilderness for fully guided Sport Fishing and Wildlife Photo Safaris. We operate in remote regions of Southcentral, Southwestern, and Bristol Bay Alaska including Katmai National Park and Preserve and the Alagnak Wild River Preserve. Spin or fly fish for King Salmon, Sockeye Salmon, Chum Salmon, Pink Salmon, Silver Salmon, Trophy Rainbow Trout, Dolly Varden/Char, Arctic Grayling, Lake Trout, and Northern Pike.
See our website for more information: Alaskan Guide Service

Alaska Alpine Adventures

Explore and experience the real Alaska! Award-winning, all-inclusive hiking, rafting, backpacking, kayaking, climbing, skiing and multi-sport adventures throughout Alaska national parks and wildlife refuges. Tours range from 7 to 15 days. Contact us at: Alaska Alpine Adventures, 2133 Dahl Lane Anchorage, AK 99503, (877) 525-2577