Alaska Fishing Guide & Alaska Fishing Charter Information
Improve your chances for having the fishing trip of a lifetime by hiring an Alaskan fishing guide or fishing charter service. Their experience and knowledge of fishing in a particular area or region of Alaska will greatly improve your odds of catching that trophy King Salmon, giant Halibut or world class Rainbow Trout. Here you will find information on Alaska fishing guides - where they fish, the fish they target, lodging arrangements, fishing packages, rates, fishing seasons and more, so you can plan the ultimate Alaskan fishing vacation.
Alaska Fishing Regions:



Southcentral

Southwest

Southeast

Interior / North
Southcentral Alaska Fishing Guides & Charters

Alaska's Angling Addiction
You can catch trophy Kenai River trout and salmon with the experienced Alaska fishing guides of Alaska's Angling Addiction. Join the only two Federation of Fly Fishers certified fly casting instructors currently fish guiding on the Kenai for your next fly fishing adventure. Specializing in trophy trout and salmon on the fly rod, we are your best choice for guided fishing the Kenai. Cabins and fishing packages available.
Alaska's Wilderness Place Lodge
Alaska's Wilderness Place Lodge is a fly-in fishing lodge on Lake Creek which is just a short flight from Anchorage. Spin and/or fly fishing for King Salmon, Silver Salmon, and Rainbow Trout. Gorgeous real log lodge and cabins.
Awesome river, cuisine, and guide service.
Alaskan Wilderness Outfitting Company
We offer both guided and unguided fly and spin fishing trips to the pristine waters of Prince William Sound, the wild lakes and rivers of the Wrangell Mountains and the untamed wilderness of the North Gulf Coast on the Tsiu River. Comfortable high end cabins and experienced guides! Visit out website at AlaskaWilderness.com .
Alaska's Yentna Station Lodge
Alaska's Yentna Station Roadhouse is a long established salmon fishing lodge near Anchorage on the Yentna River. Open year round, we provide fully guided salmon, pike, and other fishing during the Summer , and gas, food and lodging services during the Winter. We are a checkpoint for the Iditarod Sled Dog Race and various snowmachine races.
Great Alaska Adventure Lodge
Alaska's most complete adventure resort provides fishing and adventure to world travelling outdoorsmen. Spin and fly fishing anglers alike chase world record Kings, Halibut and Rainbow Trout, from the comfort of a lodge chosen as one of the "World's Great Adventure Lodges". Non-fishing guests can accompany anglers or view bears, glaciers and whales. See our online brochure or visit our website.

Hill Norvell Alaskan Fishing
Located in Seward, Alaska, we provide the ultimate angler excursion tailored specifically to your schedule and skill level. Whatever the adventure may be, we will plan an Alaskan fishing experience you''ll never forget. Day trips or fishing packages with lodging accommodations available.Lodging / cabins without fishing also available.
Krog's Kamp on the Kenai River
Krog's Kamp on the famous Kenai River offers world class fishing for salmon, halibut, and rainbow trout, wildlife viewing, hiking, and more, all from the comforts of a modern riverfront lodge with all Alaskan amenities. We have the best location on the lower river for king and silver salmon fishing.

The Kenai River Cabins at Sterling
Great rental cabins oriented to fishermen and located on the banks of the Kenai River near it's confluence with the Moose River. Fully furnished with all amenities including direct tv, our cabins will provide the perfect base camp for your outdoor adventures as it is located in the middle of the Kenai Peninsula. Guided fishing packages are available as well as unguided shore fishing.
The Northwoods Lodge
Fly & spin fisherman will sample fishing only Alaska can provide. Our Deluxe Alaska Fishing Resort is situated on Fish Lakes Creek, in the heart of
south central Alaska's best angling destination.
Southwest Alaska Fishing

Togiak River Lodge
A deluxe wilderness lodge on the Togiak River in the famous Bristol Bay area of Alaska offering world class
fishing for: King, Silver, Red, Pink and Chum salmon, as well as trophy sized Rainbow Trout, Arctic Grayling and Dolly Varden.

Alaska Outdoor Safaris
Trip Planning Specialists - your best choice for selecting Alaska's finest fishing locations, best lodges, cabins, & guides. Professional and personalized service you can trust. Freshwater and saltwater fishing adventures at locations from the Kenai, to Bristol Bay, Western Alaska and Southeast.
Afognak Wilderness Lodge
A classy true-wilderness log lodge/cabins since 1974. Abundant and varied Kodiak land and sea wildlife, outstanding fresh/saltwater fishing, superb local cuisine, floatplane access, sauna, kayaks.
Holitna River Lodge
Our remote lodge offers superb fishing for all five (5) species of salmon, arctic char, northern pike, dolly varden, grayling and the exotic arctic sheefish which looks and fights like a tarpon. In fact, sheefish are known as the Tarpon of the North and prized even by Alaskans who rarely get to fishthe few rivers that they claim as their habitat.
Kodiak Island Resort
All inclusive luxury fishing and hunting resort in the heart of the Alaskan wilderness. Located in remote Larsen Bay on Kodiak Island we offer world-class saltwater fishing for halibut, salmon, and yelloweye. All guest suites have private bathrooms.
South Kodiak Adventures
Our remote location on the Southern tip of Kodiak Island insures world-class fully guided fishing for salmon and halibut from the comforts of our full service lodge. Deer hunting, sightseeing and photography trips are also available using our 33 foot, high speed and licensed vessel, the "Alaska Adventure".
Southeast Alaska Fishing

Alaska Premier Charters / Wild Strawberry Lodge
Experience awesome fishing, gourmet meals, and "Warm Genuine Alaskan Hospitality" at our all inclusive luxury waterfront lodge in Sitka. Home of World Class king salmon and halibut in SE Alaska! Operating a full service lodge for 32-40 guests. Over 20 years of accumulated local knowledge and experience. Only 3 hours direct jet service from Seattle on Alaska Airlines
.
Alaska's Angling Addiction
Steelhead! Steelhead! Steelhead! Join Alaska's Angling Addiction as we guide you to some of the best steelhead rivers and runs that Alaska has to offer during our spring Steelhead Camp. Located on Prince of Wales Island in SE Alaska, The camp is 7 days and all meals and gear provided. Check out our web page for more information.
Alaskan Wilderness Outfitting
We offer both guided and unguided fishing trips to the pristine waters of Prince William Sound, the wild lakes and rivers of the Wrangell Mountains and the untamed wilderness of the North Gulf Coast on the Tsiu River. Remote, uncrowded fishing at it's best!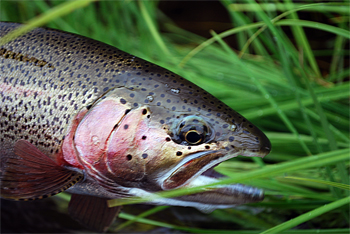 For information about placing your listing in this directory, please contact:

Alaska Internet Marketing, Inc.
Hosting ~ Website Design ~ Advertising
Anchorage, Alaska
(907) 274-9954
Email: info@alaskaoutdoors.com
Established 1996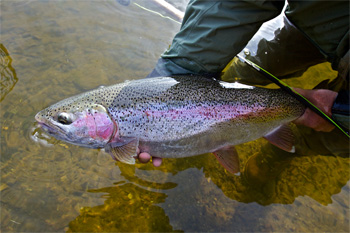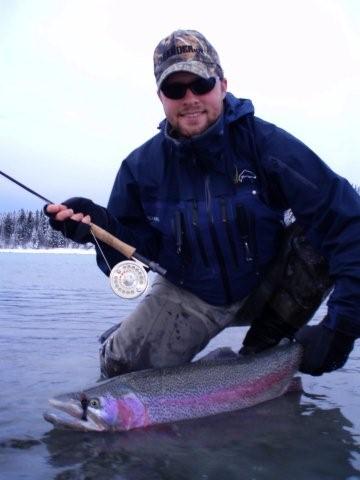 Photo courtesy of
Alaska's Angling Addiction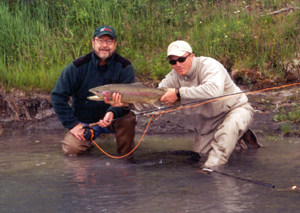 AlaskaOutdoors.com
is your guide to the premier fishing charters, guides and fishing outfitters of the Last Frontier. Our Alaska fishing lodges, fishing guides and fishing resorts offer world class wilderness guided fishing for trophy rainbow trout, dolly varden, Arctic grayling, Arctic char and all 5 species of Alaska salmon !