Alaska Sightseeing Tours
~ Guided and Do it Yourself Tours ~


Guided Alaska Tours
Alaska Backcountry Adventure Tours

Alaska ATV and Snowmobile Adventure Tours. We offer year round guided ATV tours and snowmobile tours in the winter. We also arrange fishing trips hiking and backpacking, flight-seeing, rafting and more.




Andrew Airways (Kodiak Island, Alaska )

Call and let us help you arrange your next adventure in the great outdoors of Alaska's Kodiak Island-anything from the infamous Kodiak Bearviewing Adventures, fishing trips, hunting, float river trips, to a leisurely flight seeing trip, all of which will provide an excitement never felt before.





Explore and experience the REAL Alaska! Award-winning, all-inclusive hiking, rafting, backpacking, kayaking, climbing, skiing and multi-sport adventures throughout Alaska's national parks and wildlife refuges. Tours range from 7 to 15 days. Private guided adventures for families, individuals or groups are our specialty. Alaska Alpine Adventures • 2133 Dahl Lane Anchorage, AK 99503 • (877) 525-2577.










Do it Yourself ~ Unguided Tours
Exit Glacier Tour - Seward, Alaska

Within 15 minutes drive of Seward, you can hike up close to Exit Glacier and experience the dense blue ice while listening to it crackle. Comfort facilities and an information center are at the trailhead. Walk the lower half mile trail to get a good photo in front of the glacier face. The trail also provides access for people with disabilities. The upper trail provides an overlook, as if you're standing right on the glacier. Be careful, as it is an active, calving glacier. You can see the changes in vegetation with the gradual melting of the glacier, and note the signs pointing out the glacier's reach in years past.

A rather challenging day hike to a 3,500-foot summit treats you with stunning views of the 700-square-mile Harding Icefield. This hike is about 7 miles round trip. This massive ice sheet, located within Kenai Fjords National Park, is the source of over 35 named glaciers, including Exit. The Harding Icefield Trail winds up the north edge of Exit Glacier, offering spectacular views of the glacier and surrounding mountains along the way. This steep trail is best suited for in-shape hikers, gaining 1,000 feet of elevation with each mile. No special equipment is necessary for this trail from about June through early October, although a hiking stick and good hiking boots would provide extra support; bring extra layers, as it may be significantly colder at the icefield.

City of Anchorage, Alaska

Anchorage is the largest city in Alaska and is the city most frequently flown into by visitors from the lower 48 states. The city is surrounded by pristine wilderness and vast roadless areas and spectacular glaciers, but visitors should not neglect the many sightseeing opportunities within the city itself including it's uniquely Alaskan museums such as the Alaska Native Heritage Center.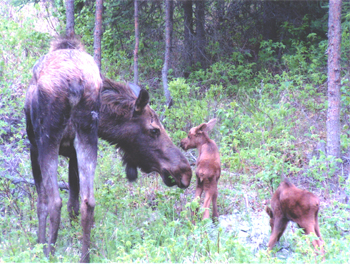 For "Flightseeing" air tours, please see our Alaska air charters page.