If you would like fresh frozen Wild Alaskan salmon delivered to your doorstep, visit WildAlaskanSalmon.com

Dave's Alaska Shrimp and Scallop Barbeque
Combine 2 Tblsps Soy sauce
-1/2 cup rice wine vinegar
-2 Tblsps fresh minced ginger
-1 tsp. sesame seeds
-4 tbsp.chopped fresh cilantro
Let rest 15 min.
Preparation:

Add and mix 1/2 cup olive oil
- add 1/4 cup sesame oil
marinate 2 hours,
skewer, place on grill couple minutes each side. Don't over cook!



Shirley's Salmon Cakes with Dressing
Salmon Patties / Burgers

l can (16 ounces) wild salmon
l egg, slightly beaten
l cup bread crumbs made from toasted bread
l/2 cup chopped scallions
salt, pepper
3 Tablespoons butter

Lemon Sour Cream Dressing

l cup sour cream
2 tablespoons fresh lemon juice
l teaspoon freshly grated rind
1/2 teaspoon sugar



Preparation:

Drain salmon, reserving liquid with fork, break salmon into small pieces. Stir in beaten egg, bread crumbs and chopped scallions. Add salt and pepper to taste. (The salmon will be fairly salty, so be conservative with salt.) Mixture should be easy to shape into patties. If too dry moisten with some of the reserved salmon liquid.

Shape mixure into 6 equal-size patties. Heat butter in skillet large enough to hold all 6 patties without crowding. When butter begins to sizzle add patties and brown well on both sides. Serve with Lemon Sour Cream Sauce and addition scallions and if desired, lemon weges. Makes 6 servings.

Lemon Sour Cream Sauce. Combine all ingredients. Allow to stand a few minutes to blend flavors before serving.

Kelly's Crème Fraîche Roasted Salmon
2 lbs wild sockeye salmon filet
1/4 cup Crème Fraîche
Salt
Freshly ground pepper
2 tbsp lemon zest
Preparation:
Preheat oven to 425 degrees. Line baking sheet with foil, place salmon on top skin side down. Sprinkle with salt and pepper, spread creme fraiche over salmon. Sprinkle lemon zest on top. Fold foil over salmon to create a tent. Bake 12-14 mins until salmon is opaque and hot in the center.
For leftovers.....
Salmon Quiche!
1 round puff pastry (9 inch pie size)
3 shallots, chopped finely
2 tablespoons butter
12 ounces salmon filet (leftovers!! break up into pieces)
1 cup of Gruyère, Emmental, or Swiss cheese
4 eggs
1-1/2 cups crème fraîche or half and half
1/2 teaspoon salt
1/4 teaspoon pepper
dash of cayenne
a handful of chopped spinach
Preparation:
Fit the puff pastry (you can also use a regular pie crust if you prefer) to a 9 inch tart pan. Pierce the bottom with the tines of a fork about 15 times. Place the pan in the freezer nd chill for at least 20 minutes.
After chilling, prebake the crust in the oven for 12 minutes at 400°F. Remove from oven and allow to cool for at least ten minutes before filling.
Meanwhile, melt the butter in a medium sized skillet on low-medium heat. Add the shallots and cook for five minutes, stirring frequently to avoid browning. Add the salmon and heat just until the salmon is cooked through.
Remove from heat and spread the filling in the cooled crust.
Sprinkle evenly with shredded cheese.
Whisk the eggs, creme fraiche, salt, pepper, spinach and cayenne together until combined. Pour on top of the other ingredients and place the quiche in the oven to bake for 40 minutes at 375° F.

Ana's Baked Honey Dijon Salmon

1/4 cup butter, melted
3 tablespoons prepared Dijon-style mustard
1 1/2 tablespoons honey
1/4 cup dry bread crumbs
1/4 cup finely chopped pecans
4 teaspoons chopped fresh parsley
4 (4 ounce ) filets salmon
1 lemon, for garnish
salt and pepper to taste
Preparation:
1.Preheat oven to 400 degrees F (200 degrees C).
2. In a small bowl, stir together butter, mustard and honey. Set aside. In another bowl, mix together bread crumbs, pecans and parsley.
3.Brush each salmon filet lightly with honey mustard mixture, and sprinkle the top of the filets with the bread crumb mixture.
4.Bake salmon in preheated oven until it flakes easily with a fork, approximately 10 to 15 minutes. Season with salt and pepper, and garnish with a wedge of lemon.

If you would like fresh frozen wild Alaskan salmon delivered to your doorstep,
visit www.WildAlaskanSalmon.com

--------------------------
If you would like to see a great recipe by Alaska Urban Hippie for
Moose Shank Osso Buco,
please visit their blog at
http://alaskaurbanhippie.com/alaska-moose-shank-osso-buco/

Fritz's Alaska Salmon with Fresh Basil
3 tablespoons extra-virgin olive oil
3 tablespoons minced fresh basil
2 tablespoons fresh parsley
2 tablespoons of lemon-pepper
2 tablespoons of garlic salt
1 tablespoons of oregano
1/2 teaspoon fresh ground pepper combined with 2 tbsp lemon juice

6 salmon steaks, cut 1 inch thick, approx. 8 oz each
(or a 3 to 4 lb fillet of salmon )

Preparation:
1. Preheat oven to 350 degrees. In a medium bowl, mix all ingredients.
2. Brush salmon with mixture. Bake until just opaque throughout, 15 to 18 minutes depending upon thickness of salmon.
3. In the alternative, fillets may be grilled skin side down while basting the top of the fillet frequently with the mixture until done. Serves 6.

Richard's Baked Lemon Salmon

1 whole wild salmon
Lemon pepper
2 Lemon, thinly sliced
Garlic powder
2 white onion, thinly sliced Parsley
Preparation:

Filet and Skin the wild salmon. Cut the fillets into 3" to 4" wide pieces.
Tear off a piece of tinfoil 8-12 inches long and place the salmon on the tinfoil.
Lightly sprinkle the Lemon Pepper and Garlic powder on the salmon. Slice the lemon and the onion into very thin slices and arrange on top of the salmon at this time also place the parsley on the salmon for decoration.
Wrap the salmon with the tinfoil and seal the seams very well.
Repeat for the remainder of the salmon.
Preheat oven to 350. Place the tinfoil wrapped salmon into the oven on a cookie sheet and bake for 20 to 25 minutes or until the opaque color in the center is barely visible.
Serves 8-10.

Moosekiller Mark's Salmon with Lemon-Caper Butter
1 stick (8 tablespoons) butter
3 tablespoons minced fresh parsley
2 garlic cloves, minced
2 tablespoons capers, rinsed and drained
2 tablespoons grated lemon zest
1 teaspoon salt
1/4 teaspoon pepper
1 tablespoon extra-virgin olive oil
6 salmon steaks, cut 1 inch thick, approx. 8 oz each
(or a 3 to 4 lb fillet of salmon)

Preparation:
1. Preheat oven to 350 degrees. In a medium bowl, beat butter with an electric mixer until soft. Add parsley, garlic, capers lemon zest, 1/4 teaspoon salt,
and 1/8 teaspoon pepper. Beat just to combine. Set lemon-caper butter aside.
2. Brush salmon with olive oil and season with remaining 3/4 teaspoon salt
and 1/8 teaspoon pepper. Bake until just opaque throughout, 15 to 18 minutes depending upon thickness of salmon. Serve hot fish with cold lemon-caper butter.
3. In the alternative, spread lemon-caper butter mix over salmon prior to baking. Serves 6.

Richard's Cranberry Creek Grilled Salmon
1/2 of whole salmon (preferably king or sockeye) filleted w/skin on 1 side
2/3 lb. of butter, melted
3 tablespoons of garlic salt
3 tablespoons of lemon pepper
1 1/2 diced onions
Preparation:
1. Filet salmon in one piece from behind the head to the tail. Rinse and pat dry.
2. In a small pot, place the butter, then the diced onions and garlic salt plus lemon pepper. Warm pot slowly until all ingredients can be mixed together with the melted butter.
3. Place fish on barbeque grill or on open fire grill with skin side up for 5 minutes.
4. With large spatulas (2) flip the fish over with skin side down.
5. Score fish longitudinally with shallow knife cuts (3) to allow butter mix to seep into filet. Baste or spoon butter & onion mix onto filet about every 5 minutes.
6. Continue cooking fish until done to taste. Usually 15 to 20 minutes for medium sized salmon. Serves 6 to 8.

Mark's Berry Batter-Fried Trout

3-6 trout fillets (10-12 inchers)
1/2 cup cornstarch
1/2 cup flour
4 egg whites
2/3 of one bottle of Leinenkugel's Berry Weiss
16 ounces vegetable oil
Preparation:
1)combine flour, cornstarch, and egg whites into a bowl and mix thoroughly until
2)mix beer in and mix thoroughly until batter is smooth without lumps (using a whisk or fork works well to mix)
3)turn oil on to medium heat (4-6) and check to see if hot enough by putting a drop of water on it—if it sizzles, then it is warm enough to begin frying
4)add 1 piece of fish to oil, frying until golden brown on each side
5)pad down all pieces of fish with paper towels to eliminate extra oil
***serves 1-2 people


More Great Fish and Game Cooking Recipes !!

Glady's Moose or Beef Brisket Cooking Recipe
1 can of coca cola
1 tablespoon onion powder
1 tbspn garlic powder
2 capfuls of liquid smoke
½ tbspn of cayenne
Preparation:
1. Pierce meat several times and sprinkle with meat tenderizer, onion powder, garlic powder, and cayenne powder. Then, marinate with cola and liquid smoke overnight.
2. The next day cover and bake at 250 degrees for 5 hrs.
3. Then, take off top, drain, and put on your favorite BBQ sauce, 1/3 cup brown sugar, and a 1/2 teaspoon of cayenne. Then, bake 1 more hour.

Mark's Cranberry Venison

2-3 pounds venison roast
1 can cranberry sauce
½ stick butter
½ cup sugar
1 medium onion
3 cups water
Preparation:

1)cook venison in 3 cups of water in a crockpot on low heat setting for 10 hours with onion that has been quartered
2)melt butter and then mix cranberry sauce and sugar into butter (until smooth) at 8th hour of cooking venison and add this mixture to the venison
3)allow to finish cooking for the remaining 2 hours.
***serves 4-6 people

Mark's Venison Cutlets

1/2 pound venison (backstrap or loin as they are referred to)
1/4 stick butter
3/4 cup flour
1 teaspoon salt
1 teaspoon pepper
Preparations:

1)soak venison in 1 cup salt and water for 24 hours, then cut into 1/4 inch thick pieces
2)combine flour, salt, and pepper into a sealable plastic bag and shake thoroughly
3)add venison chunks to bag and shake thoroughly, making sure that all venison is completely covered with four mixture
4)put half butter into a frying pan and when it is melted place venison into pan
5)fry at medium heat (4-6) for about 10 minutes or until bottom side of venison is crispy to desire (generally observed when flour mixture turns dark yellow to light brown)
6)put the rest of the butter into the pan and then flip venison over to fry the other side to desired crispiness
7)fry for another 10 minutes or so, checking regularly
***serves 1-2 people
***some stove tops may take more than 10 minutes when frying for crispiness

Moose Meatloaf
1 lb. Ground Moose Meat

1 Green Pepper, chopped

1 Red Pepper, chopped

1 cup Seasoned Bread Crumbs

1/2 cup Onion, chopped

1 clove Garlic, minced

1 Egg, beaten

1 Beef Bullion Cube, crushed

3 tbsp. Ketchup

1 tbsp. Mustard

1 tbsp. Steak Seasoning

1 tbsp. Worcestershire Sauce

Salt & Pepper to taste

Preparation:

In a large mixing bowl start by combining ground moose meat with dry seasonings, mix well. In a separate bowl combine bread crumbs, onion, peppers and garlic, mix well. Add mixture to moose meat then pour in remaining ingredients. Using your hands, mix all ingredients together and form into a log shape. Place formed loaf into a bread pan and cover with tin foil. Bake at 325 for 35-45 minutes (or until done in the center).

Moose Bourguignon
1/4 lb. salt diced pork
3 strips diced bacon
flour
salt and pepper to taste
3 lb. Moose round or rump cut in cubes
1 Moose kidney, thinly sliced (if available)
1 Tb. brown sugar
1 1/2 Tb. currant jelly
1 tsp. Kitchen Bouquet
3 bouillon cubes
2 onions chopped or two dozen pearl onions
4 carrots, sliced
1 Tb. Worcestershire sauce
2 bay leaves
2 tsp. thyme
1/2 lb. mushrooms, sliced
butter
3/4 cup cream
3 Tb. chopped parsley
2 cloves garlic, sliced
2 cups red wine
1 can cream of mushroom soup
Preparation:

1. Fry salt pork in skillet and cook bacon. Put aside.
2. Shake the meat chunks and kidney slices in salted and peppered flour. Brown the meats in the salt pork fat. Remove to the casserole dish.
3. Stir sugar, jelly, and Kitchen Bouquet into skillet, then smash in the 2 bouillon cubes and melt, stirring to blend over low flame. Glaze the onions, carrots, and garlic slices until sticky with glaze but not caramelized. Remove to casserole. Stir in red wine, then the can of mushroom soup,(can use beef broth).
4. Sir in bay leaves and thyme and smooth out the liquid. Set aside.
5. Cover and simmer for 2-21/2 hours, adding water if stew thickens too much. Add vegetables to casserole for the last 30-40 minutes of cooking.
6. Sauté the mushrooms in butter for 2-3 minutes, then add the cream. Cook down until the cream has thickened-about 5 minutes. Add bacon to the mushroom mixture just long enough to warm them, and add to stew along with parsley.
This is excellent served with noodles. Serves 6

AC's Dijon Olympia Pheasant
2 pheasant breasts (spruce hens or chicken) halved
1 tablespoon lemon pepper
1/4 cup mayonaise
1/4 cup of Dijon-honey mustard dressing
1 tablespoon garlic salt
1/4 cup dry garlic bread crumbs
1/4 cup parmesian grated cheeze

Preparation:
1. Rinse and pat dry the halved pheasant breasts and place on aluminum foil.
2. Brush coating of mayonaise on breasts after mixing with garlic salt and lemon pepper.
3. Pour honey mustard dressing over halved breasts.
4. Sprinkle parmesian and bread crumbs over all halved breasts.
5. Wrap in aluminum foil and bake at 400 degrees for 40 minutes.

Lincoln Park's Balsamic-Glazed Salmon

2 bags spinach
2 tablespoons olive oil, divided
2 5-ounce salmon fillets with skin
1/2 cup chopped shallots
1/2 cup halved pitted kalamata/black olives
1/2 cup golden raisins or dried cherries (no added sugar)
3 tablespoons balsamic vinegar
1 1/2 tablespoon honey


Steam spinach, about 2 minutes. Do not overcook. You may need to do in two batches. Set aside. Salt and pepper salmon. Cook salmon on both sides on either the grill or in a skillet. Three to four minutes per side for the above size salmon. Transfer to plate.

Add 1 tablespoon olive oil to skillet. Add shallot, olives, and golden raisins (or cherries). Stir 1-2 minute. Add spinach; toss until heated through, about 2-3 mins.

Simultaneously, add balsamic vinegar and honey to skillet different skillet. Boil until reduced to glaze, about 30 seconds.
Place spinach on place, salmon on top and then spoon glaze over both.
Salmon Chowder - Chicago Style
1 tbps olive oil
1 lb bacon sliced
1 large onion, diced
4 stalks of celery, cut into ½-inch slices
4 lbs of small red potatoes, cut into 1-inch cubes (reserve 1lb for mashing)
4 cups of chicken stock
4 bay leaves
3 tsp. crushed red peppers
4 tsp. fresh or dried thyme
4 cups frozen, yet thawed sweet corn
1 QT whole milk
1 pt heavy whipping cream
Zest from 2 lemons
Juice from 2 lemons
3 lbs wild salmon, de-boned, skinned and cut into 1-inch pieces
Chopped scallions for garnish

Brown bacon in olive oil. With slotted spoon, remove bacon and set aside. Keep oil from bacon and sauté onion and celery for 4 minutes. Add 3 lbs potatoes and sauté for 5 minutes. Next add stock and bay leaves, crushed red peppers, thyme, corn and cook on low for 5 minutes. Bring to a low simmer. Add milk and cream. Bring to a simmer again. Add lemon zest, lemon juice, bacon, salmon, salt and pepper. Low simmer for 15-20 minutes, until salmon and potatoes are tender. If a thicker consistency is desired, boil/mash remaining 1 lb of potatoes and add slowly until desired consistency is achieved. Ensure mashed potatoes are disbursed evenly throughout. Garnish with fresh scallions. Serves 9 small servings or 6 main courses



Venison Pot Roast

3 1/2 lb of venison shoulder or boneless chuck roast
1 Tbsp olive oil
Salt, pepper, other seasoning to taste
1 large yellow onion, chopped or sliced
4 cloves of garlic, peeled
1/2 cup of red wine
Several carrots, peeled and cut lengthwise
1 Use a thick-bottomed covered pot (oven-proof ), such as a dutch oven, just large enough to hold roast and vegetables. Sprinkle and rub salt, pepper, and Italian seasoning all over the meat. Brown roast in pot, all over, several minutes on each side. Don't move the roast while a side is browning, or it won't brown well.

2 When roast is browned, lift up the meat and add garlic and chopped onion to the bottom of the pan. Let the roast sit on top of the onions. Add 1/2 cup of red wine. Cover. Cook the pot roast in a 225°F oven, once you have browned it on the stovetop, and brought the liquid to a simmer.

3 Cook for 3 1/2 to 4 hours, until meat is tender. (If you are using a pressure cooker, cut the time by half). Near the end of the cooking, add carrots, cook until tender, about an additional 10 minutes.
Serves 4-5. Suggest serving with green beans and potatoes.

Alaska Seafood Paella
Broth:
3 cups water
1 cup dry white wine
1 teaspoon saffron threads
2 (8-ounce) bottles clam juice or chicken stock
Herb Blend:
1 cup chopped fresh parsley
1/3 cup fresh lemon juice
1 tablespoon olive oil and Salt to taste
1 teaspoon dried tarragon
2 large garlic cloves, minced


Paella:
1 pound Halibut fish fillets (cube)
16 unpeeled jumbo shrimp (about 1 pound)
1 tablespoon olive oil
2 cups finely chopped onion
1 cup finely chopped red bell pepper
1 cup canned diced tomatoes, undrained
1 teaspoon sweet paprika
1/2 teaspoon crushed red pepper
3 garlic cloves, minced
3 cups uncooked Arborio rice or other short-grain rice
1 cup frozen green peas
1 pound of wild Alaskan salmon (sockeye) fillets (cube)
1 (7-ounce) jar sliced pimento, drained
2 tablespoons fresh lemon juice
1 pound of mussels or clams or scallops
Preparation
To prepare broth, combine the first 4 ingredients in a saucepan. Bring to a simmer (do not boil). Keep warm over low heat.
To prepare herb blend, combine parsley and next 4 ingredients (parsley through 2 garlic cloves); set aside.
To prepare paella, trim salmon and halibut fillets; cut into 1-inch pieces. Peel and devein shrimp, leaving tails intact. Heat 1 tablespoon oil in a large paella pan or large skillet over medium-high heat. Add fish and shrimp; saute 1 minute (the seafood mixture will not be cooked through).
Remove seafood mixture from pan, and keep warm. Add onion and bell pepper to pan, and saute 5 minutes. Add the tomatoes, paprika, crushed red pepper, and 3 garlic cloves; cook 5 minutes. Add rice, and cook 1 minute, stirring constantly. Stir in broth, herb blend, and peas. Bring to a low boil, and cook 10 minutes, stirring frequently.
Add clams to pan, nestling them into rice mixture. Cook 5 minutes or until shells open; discard any unopened shells. Stir in the seafood mixture, and arrange shrimp, heads down, in rice mixture. Arrange pimento slices spokelike on top of rice mixture; cook 5 minutes. Sprinkle with lemon juice. Remove from heat; cover with a towel and let stand 10 minutes.

Ana's Creamy Halibut for Four
INGREDIENTS:
1/2 cup grated Parmesan cheese
1/4 cup butter, softened
3 tablespoons mayonnaise
2 tablespoons lemon juice
3 tablespoons chopped green onions
1/4 teaspoon salt
1 dash hot pepper sauce
2 pounds skinless halibut fillets

DIRECTIONS:
1. Soak halibut in gallon zip lock bag with 2 sliced and squeezed lemons, 1/2 cup of white wine, and 1/2 cup of water for 1 hour. Preheat the oven broiler. Grease a baking dish.
2. In a bowl, mix the Parmesan cheese, butter, mayonnaise, lemon juice, green onions, salt, and hot pepper sauce.
3. Arrange the halibut fillets in the prepared baking dish.
4. Broil halibut fillets 8 minutes in the prepared oven, or until easily flaked with a fork. Spread with the Parmesan cheese mixture, and continue broiling 2 minutes, or until topping is bubbly and lightly browned.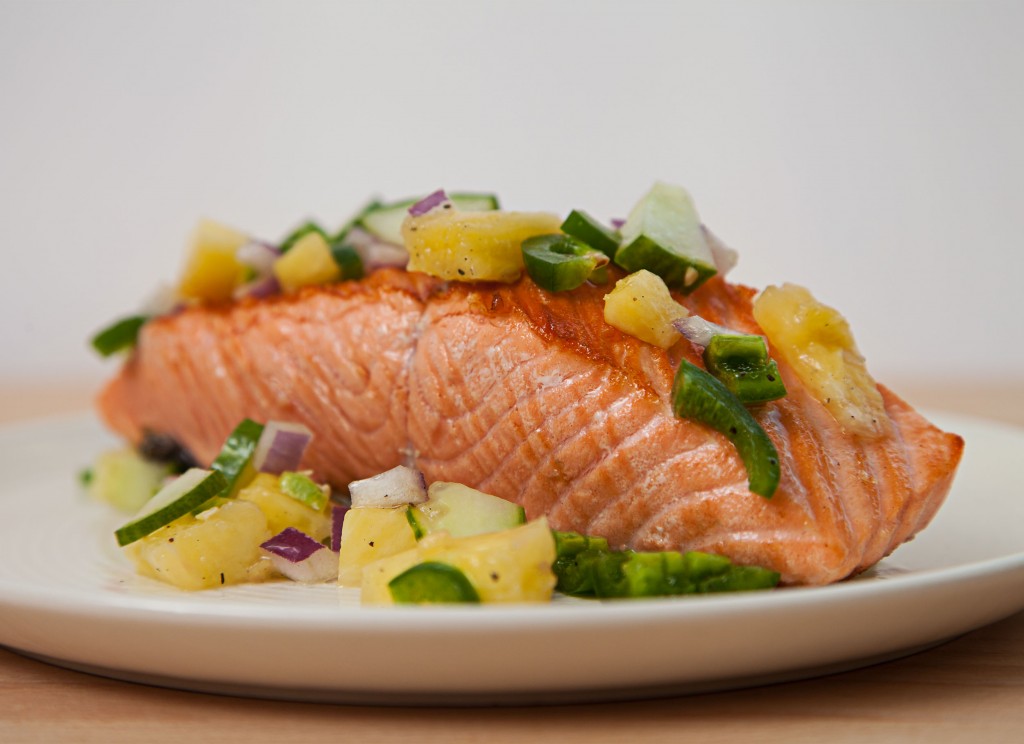 Ana's Pineapple and Jalapeno Salmon
INGREDIENTS:
4 salmon fillets, 6 ounce each
Olive oil
Salt and pepper
1 cup diced English cucumber
½ cup diced fresh pineapple
¼ cup finely diced red onion
1 jalapeño, diced
Juice of a lime
¼ teaspoon salt
White wine

DIRECTIONS:
For the Salsa:
In a small bowl, mix together the cucumber, pineapple, onion, jalapeño, lime juice, salt and a drizzle of olive oil. Set it aside.
For the Salmon:
Lightly oil the outside of the salmon fillets and season them with salt and pepper.
Heat a steam grill pan over medium heat. When the pan is hot, place the salmon on the grill pan, flesh side down. Grill it for 5 minutes and then carefully flip the salmon over. Pour a ¼ cup of white wine in the reservoir of the grill pan and cover the pan with the lid. Continue to cook it for another 5-7 minutes or until the salmon reaches the desired doneness.
Remove the salmon to a serving dish and top it with the cucumber salsa.

© 1996-2015 Alaska Internet Marketing, Inc. All rights reserved.